Microwave Tunnel Oven
---
By utilizing microwaves to penetrate materials, this tunnel microwave drying system can remove the moisture inside the products, which leads to a fast drying. Tunnel microwave drying systems are widely used in agricultural and food industries.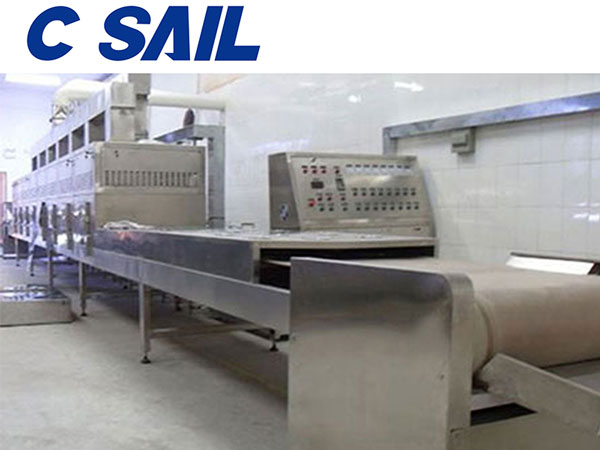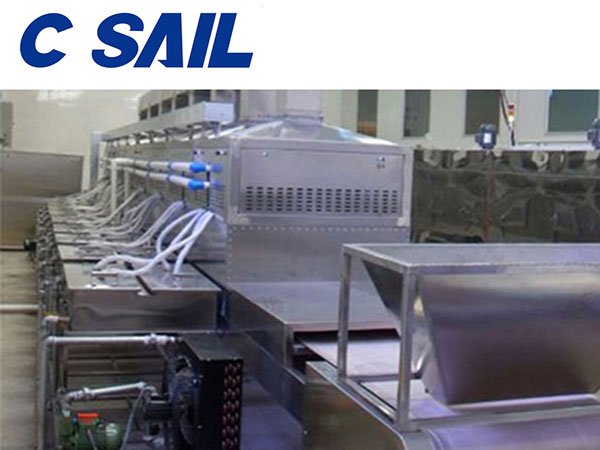 Application
Drying high moisture sticky materials
Drying powder, particles, flake materials, strip materials, clintheriform materials, small blank, etc.
Regeneration of catalyzer.
Drying, sterilization and disinfection of solid waste materials like sludge.
Drying, sterilization and disinfection of food, medicine and medicine raw materials.
Drying, insect killing and mould proof of rice, flour.
High polymer material solidification
Foam materials heat treatment
Parameters
Power: three phase, 380V±10%, 50Hz Microwave output power: ≥100kW (adjustable, tunnel)
Total input power: about 145Kw
Microwave frequency: 2450MHz±50Mz
External Dimension: about 29940x1260x1650mm (L×W×H)
Drying Chamber Dimension: about 25740×900×518mm (L×W×H)
Microwave Opening Dimension: about 60mm
Microwave Suppressor: About 1200mm for front end and back end.
Machine Head Size: 1000mm
Machine Tail Size: 1000mm
Theoretical Amount of Dewatering: About 100kg/h
Specification of Conveyor Belt: About 62000×700×0.85 mm
Work Temperature: -5~40℃
Work Environment: Relative Humidity≤80%
Ambient Environment: No corrosive gas, conductive dust and explosive dust surrounded.
Leaking Microwave Energy: Comply with National GB10436-89 Microwave Radiation Safety Standard (≤5mw/CM2) and GB5226 Electrical safety of machinery Standard.
---