Industrial Food Oven
---
The difficulties in designing the industrial food oven lie in that, the drying temperature needs to be uniform, the drying speed needs to be fast and the work efficiency needs to be high. However, at the same time, the quality of the product for drying needs to be guaranteed, and the nutrients of the products should not be lost or diminished if possible.
With rich experience in drying agricultural products, we have supplied a complete range of drying equipment for drying rice, wheat, corn, bean, peanut, flower, aquatic products, meat and so on. After repeated experiments, our technical team has summarized the effect of drying temperature on different plants, as well as the effect of drying time and temperature fluctuation on the product quality.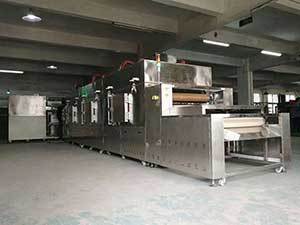 We have redesigned the single layer drying structure to multilayer drying structure, as well as renovated the single temperature drying to a multiple phase temperature drying method. Additionally low humidity dry air has been adopted. Therefore, the tunnel hot air oven, tunnel infrared hot air oven and tunnel microwave drying system developed by C SAIL are especially suitable for drying agricultural products.
With energy saving capabilities, the air energy dehumidification dryer, solar power drying equipment, high voltage drying machine developed by C SAIL are also suitable for drying agricultural products. Considering the actual needs from clients, we can provide clients with the most suitable drying equipment, as well as provide clients customized drying equipment.
---